OBSERVATOIRES
2021
Impressions fine art sur papier Hanemüelhe contrecollées sur dibond.
50 x 70 cm chacune.
Fine art prints on Hanemüelhe paper mounted on dibond.
50 x 70 cm each.
Risographie sur papier, ed.100.
29,7 x 42 cm.
Risography on paper, ed.100.
29,7 x 42 cm.
Produit par le CAC - la synagogue de Delme
Produced by CAC - la synagogue de Delme
Cette série de cartes se propose de mettre en évidence les dissonances entre connaissance collective et expérience individuelle. Grâce à un logiciel de dessin de carte céleste, le ciel nocturne est recrée tel qu'il était à des moments dans l'espace et dans le temps qui ont été importants dans le travail de l'artiste. Les cartes célestes ne prenant pas en compte la pollution lumineuse des territoires où l'observateur se trouve, celles-ci sont altérées pour y correspondre au mieux : des étoiles sont rajoutées ou enlevées en fonction des souvenirs de l'observatrice. Ainsi, ces cartes allient données scientifiques et souvenirs du ciel - faillibles, mais faisant partie d'une réalité personnelle.

This series of maps aims to highlight the dissonances between collective knowledge and individual experience. Thanks to a celestial map drawing software, the night sky is recreated as it was at times in space and time that were important in the artist's work. The celestial maps do not take into account the light pollution of the terrritoires where the observer is, these are altered to correspond to it at best: stars are added or removed according to the memories of the observer. Thus, these maps combine scientific data and memories of the sky - fallible, but part of a personal reality.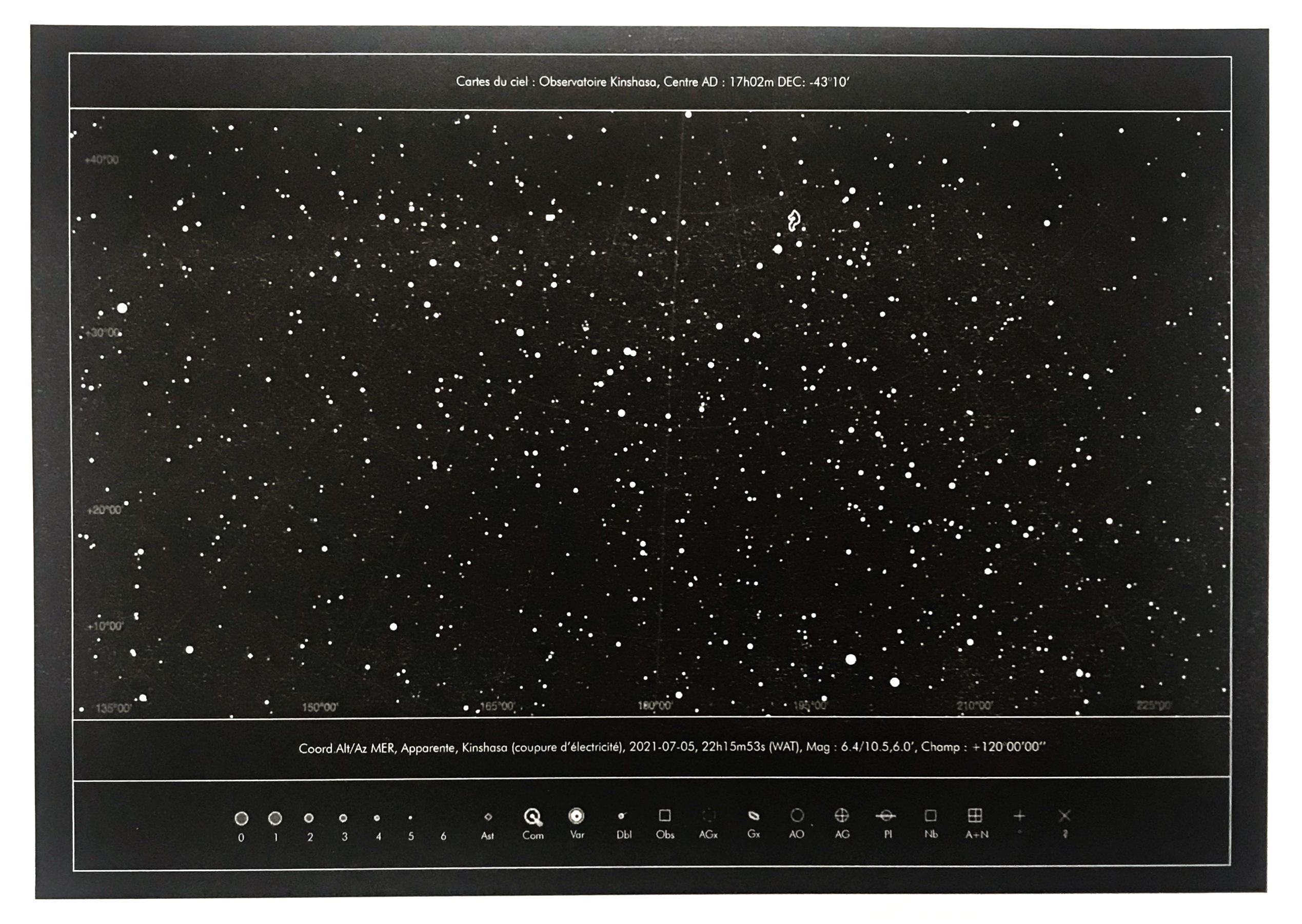 Exhibition view, Intervalles, Gue(ho)st House / CAC - la Synagogue de Delme, France, 2022. Photo : © CAC - la Synagogue de Delme